Page 10 - Folder firmy
P. 10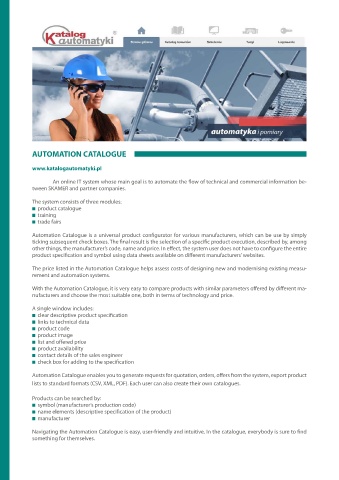 AUTOMATION CATALOGUE

            www.katalogautomatyki.pl

                    An online IT system whose main goal is to automate the flow of technical and commercial information be-
            tween SKAMER and partner companies.

            The system consists of three modules:
               product catalogue
               training
               trade fairs

            Automation Catalogue is a universal product configurator for various manufacturers, which can be use by simply
            ticking subsequent check boxes. The final result is the selection of a specific product execution, described by, among
            other things, the manufacturer's code, name and price. In effect, the system user does not have to configure the entire
            product specification and symbol using data sheets available on different manufacturers' websites.

            The price listed in the Automation Catalogue helps assess costs of designing new and modernising existing measu-
            rement and automation systems.
            With the Automation Catalogue, it is very easy to compare products with similar parameters offered by different ma-
            nufacturers and choose the most suitable one, both in terms of technology and price.

            A single window includes:
               clear descriptive product specification
               links to technical data
               product code
               product image
               list and offered price
               product availability
               contact details of the sales engineer
               check box for adding to the specification


            Automation Catalogue enables you to generate requests for quotation, orders, offers from the system, export product
            lists to standard formats (CSV, XML, PDF). Each user can also create their own catalogues.

            Products can be searched by:
               symbol (manufacturer's production code)
               name elements (descriptive specification of the product)
               manufacturer

            Navigating the Automation Catalogue is easy, user-friendly and intuitive. In the catalogue, everybody is sure to find
            something for themselves.